Strip #545 (Friday, November 12, 2004): "Jack Daniels"
- First - Previous - Next - Latest -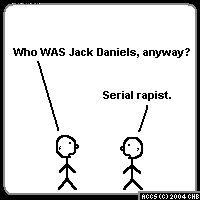 It's sort of a tradition that I draw a strip when I've had a few. This one was drawn on a napkin. Is it still funny?
Faith and Begorrah! The esteemed Mr. Havelka has returned to the world of drawing strips. Go now.